The Sims 4 Gardener Career Work as a Florist or Botanist in Seasons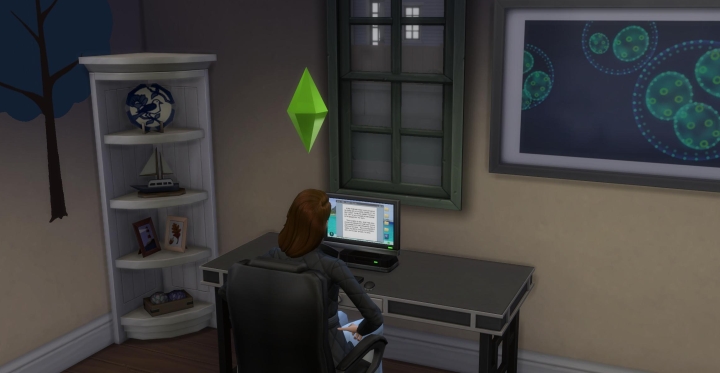 Botanists can apply for research grants on the computer, earning a large sum of money. Florists rely on the solid performance of making floral arrangements and selling them from home or in a retail setting with Get to Work.
Career Quick Links
The Sims 4 Seasons comes with a new gardening-focused career. This new addition to the Careers list is great at making money, because Gardening is already a profitable endeavor, while taking the career is a side bonus that will give you an hourly wage without leaving your home lot. Working from home is a feature unique to this, the Social Media, Politician, and Critic Careers. Select 'Work from Home' an hour before work to focus on your garden and other activities.
How to: Gardener Career Cheats
Press Control + Shift + C then type testingcheats on and press enter. You can now get promotions with careers.promote adult_gardener - you can also see all Career Cheats or visit a full list of Cheats in The Sims 4.
Work from Home
This applies to both branches of this career. Each day before work, you will see a popup in the lower left corner. Selecting the house icon, you can choose to have your Sim work from home (the default is go to work). You'll get a task or two that must be completed in order to secure your pay and career performance. Performance is calculated the next morning, so you get more than what is seen when you complete the daily assignment. Aside from the tasks you're given, you have total control and can use the time to skill up or else work on career promotion requirements. You make more money by working at home because of this.
-->
Gardener Career Levels 1-4
The Gardener Career branches off fairly early at level 4. For these early levels, the ideal mood is Energized to gain bonus performance at work. While your daily task is to harvest harvestables, you've got Seasons installed so may not have anything right away. A fast-growing, all-weather plant that can help you with the daily task is Sage. Sage can be acquired from the starter herbs pack you can order on computer or get from buy mode. Head to Outdoor > Outdoor activities. You can open them on the ground now!
| Rank | Job | Wages | Schedule | $/Day | Daily Task & Promotion Requirements | Reward for Promotion |
| --- | --- | --- | --- | --- | --- | --- |
| 1 | Dirt Digger | $20/hour | Sat-Sun, Tue-Thu 8AM-3PM | $140 | Reach Level 2 Gardening Skill, Harvest Harvestables | N/A |
| 2 | Soil-Sifter | $21/hour | Sat-Sun, Tue-Thu 8AM-3PM | $147 | Reach Level 3 Gardening Skill, Harvest Harvestables | $300, Starter Herbs (Seed Packet) |
| 3 | Seed Scatterer | $23/hour | Sat-Sun, Tue-Thu 7AM-2PM | $161 | Reach Level 4 Gardening Skill, Harvest Harvestables | $400, Starter Fruits (Seed Packet), Garden Planter Box |
| 4 | Leaf Cutter | $25/hour | Sat-Sun, Tue-Thu 7AM-2PM | $175 | Reach Level 5 Gardening Skill, Harvest Harvestables | $500, Seasonal Summer Plants, Sprinkle-O-Matic 2001 (Sprinkler), #1 Mom Wall Decal(???) |
Botanist Branch

Explore My Mods! Color Picker for Builders, Seasons Tuner, Dine Out Reloaded and a Gameplay Overhaul! Like other modders, I've been working to make The Sims 4 a better game. Check out my many mods here!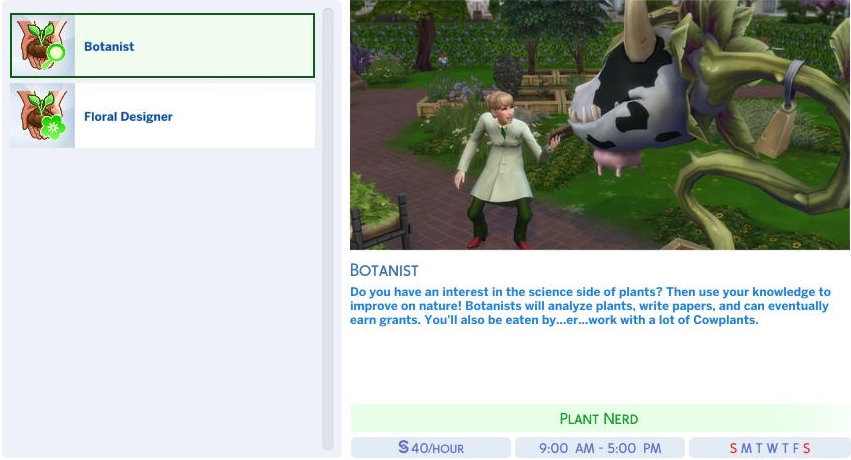 Botanist is focused on

Take Botanist if you'd like to hone in on Gardening's scientific side. You'll have to level Logic, but you should make plenty of money off your Gardening. Overall the gardener makes a bit less money than the floral designer with arrangements, but does earn more per hour from the career. The special ability they unlock at level 10 allows research grants on computer, and fills the gap in earnings potential between the two careers. You can earn upwards of $1500 for a 2 hour interaction.

The success rate for research grants can be improved by being focused, and also leveling the writing skill. You'll do that naturally when you apply for grants, so there's no need to grind writing though you may speed up the leveling by writing some books! You can also get inspired by blogging about gardening and focused by posting findings, but these two interactions seem to exist purely to give Sims a moodlet. It may be useful to get inspired before doing a string of grant proposals since it would provide a boost to writing experience.

Botanist Career Levels

| Rank | Job | Wages | Schedule | $/Day | Daily Task & Promotion Requirements | Reward for Promotion |
| --- | --- | --- | --- | --- | --- | --- |
| 5 | Plant Nerd | $40/hour | Mon-Fri, 9AM-5PM | $320 | Reach Level 6 Gardening Skill, Level 2 Logic, Harvest Harvestables | $600, Cowplant Berry |
| 6 | Stem Researcher | $45/hour | Mon-Fri, 9AM-5PM | $360 | Reach Level 7 Gardening Skill, Level 4 Logic, Harvest Harvestables | $700, The Drifter |
| 7 | Sap Splicer | $70/hour | Mon-Fri, 9AM-5PM | $560 | Reach Level 8 Gardening Skill, Level 6 Logic, Harvest Harvestables | $800, Life Under a Microscope |
| 8 | Flower Fellow | $75/hour | Mon-Fri, 10AM-6PM | $600 | Reach Level 9 Gardening Skill, Level 8 Logic, Harvest Harvestable | $900, Hooplankton |
| 9 | Bouquet Biologist | $90/hour | Mon-Fri, 10AM-6PM | $720 | Reach Level 10 Gardening Skill, Level 10 Logic, Harvest Harvestables | $1,000, Rhapsody in Blue |
| 10 | PhD of Pollen | $420/hour | Mon-Fri, 11AM-6PM | $2940 | Harvest Harvestables | $1,200, Blemish Blossom |

Florist Branch
Inspired

The ideal mood for a florist is Inspired. Your floral designer might want some tips from my Flower Arranging Skill Guide. While the floral arranger makes less per hour, they do not have to focus on logic (which doesn't make as much money as some other skills) and can instead hone in on the main money maker that is floral designing. It is actually one of the best in the game at the present, when you make masterpieces that are high-value. You can also work from home and run your own florist shop (retail) without any drawbacks. There aren't many special interactions here, though you can do some writing activities on computer.

Floral Designer Career Levels

| Rank | Job | Wages | Schedule | $/Day | Daily Task & Promotion Requirements | Reward for Promotion |
| --- | --- | --- | --- | --- | --- | --- |
| 5 | Petal-Placer | $35/hour | Thu-Mon, 8AM-3PM | $245 | Reach Level 6 Gardening Skill, Level 2 Flower Arranging, Craft Flower Arrangement | $550, Bonsai Tree |
| 6 | Stem Cutter | $42/hour | Thu-Mon, 8AM-3PM | $294 | Reach Level 7 Gardening Skill, Level 4 Flower Arranging, Craft Flower Arrangement | $650, Violets are Blue Flower Arranging Table |
| 7 | Anther Artist | $60/hour | Wed-Sun, 8AM-3PM | $420 | Reach Level 8 Gardening Skill, Level 6 Flower Arranging, Craft Flower Arrangement | $750, Caress Wheel Barrench |
| 8 | Floral Organizer | $60/hour | Wed-Sun, 9AM-4PM | $420 | Reach Level 9 Gardening Skill, Level 8 Flower Arranging, Craft Flower Arrangement | $850, Starblossoms |
| 9 | Leafy Luminary | $75/hour | Tue-Sat, 9AM-4PM | $525 | Reach Level 10 Gardening, Level 10 Flower Arranging, Craft Flower Arrangement | $950, "Blossoming Beauty" Wall Painting |
| 10 | Visionary of Vases | $350/hour | Mon-Fri, 10AM-4PM | $2100 | Craft Flower Arrangements | $1,000, Domec Floral Floor Vase, A Single Rose |