New Bantu Knots and Two Strand Twist Hairstyles for The Sims 4
You Make The Sims featuring DeeSims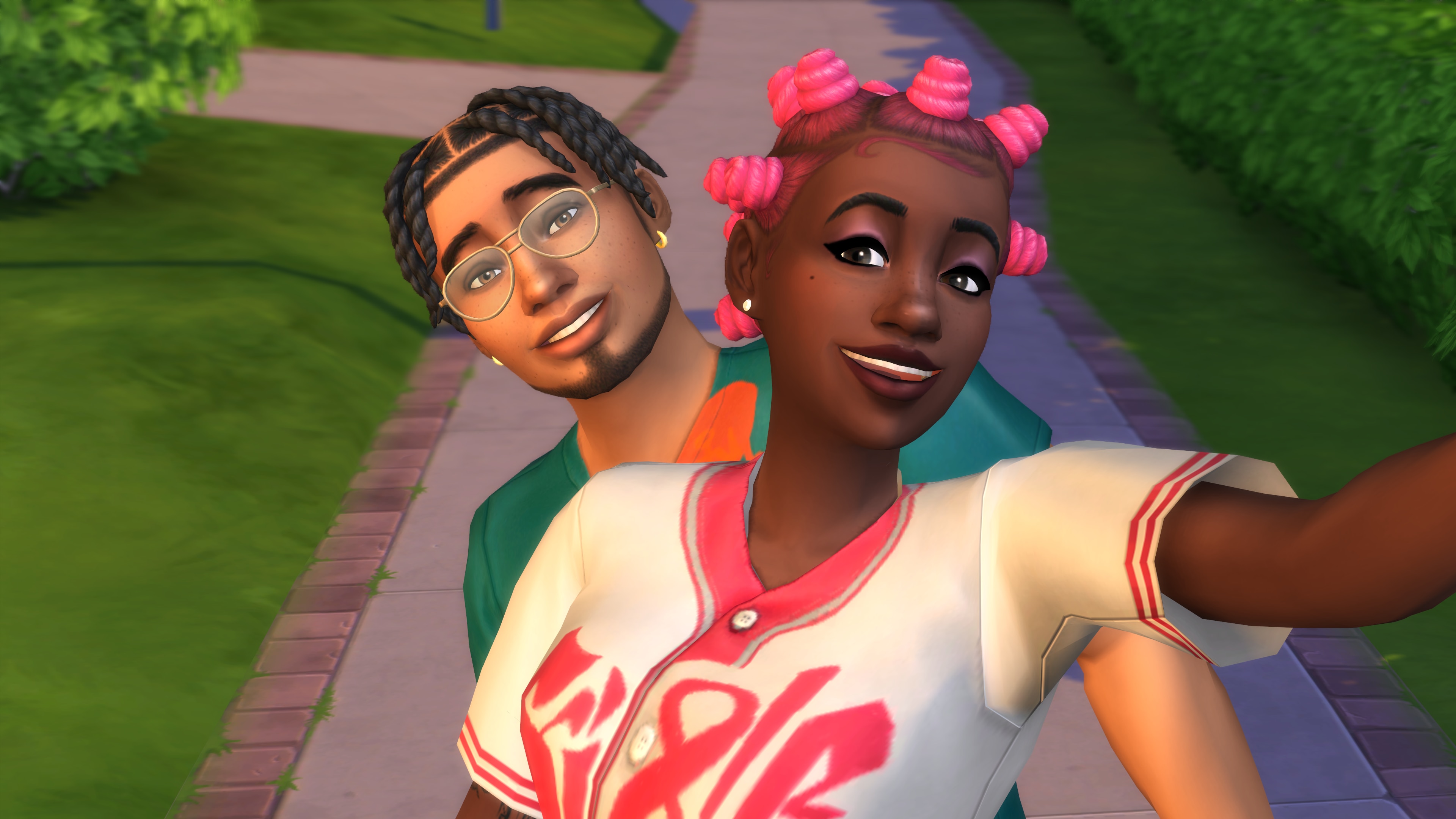 DeeSims has had a love for *The Sims™* from a very young age. As a dedicated Simmer, YouTuber, and content creator, she knows no bounds when it comes to storytelling within *The Sims™ 4*.
It is Simmers like DeeSims that continue to spark us, and we wouldn't be us without YOU! As part of our ongoing You Make The Sims series, we're continuing to spotlight creators across the world who inspire us and the game we make.
For the upcoming SDX drop, The Sims has collaborated with DeeSims to create two stunning, natural hairstyles, Bantu knots and two strand twists, that are fit for any occasion. Both are protective, staple styles originated and worn by the Black community.
We sat down and spoke with DeeSims about the importance of this addition to the game, her inspiration for the styles, and how they will enhance the Create-A-Sim (CAS) experience for Simmers.
DeeSims pictured above with Sims showing off the Bantu Knots and Two Strand Twists
When we connected with you on this collaboration opportunity back in June and you started to research what hairstyle you wanted to see in game, did you have a specific goal in mind?
My goal was representation! I knew I wanted to create more textured hairstyles for the game. I wanted to embrace curly and textured hair patterns with day to day hairstyles and to create styles that are common in the Black community, so more and more Simmers could continue to see themselves in The Sims 4!
What made you decide on the Bantu knots and two strand twists hairstyles for your collaboration? Did you have specific inspiration?
I had so much inspiration! It was truly hard to decide which path I wanted to take because there are so many amazing hairstyles that stem from the Black community. But once plans were in motion, it was clear that the Bantu Knots and Two Strand twist hairstyles were perfect for my vision!
How does it feel to have collaborated on two hairstyle pieces being added toThe Sims 4?
It's so surreal! I love The Sims and the franchise! I've been playing The Sims since I was very young. I promise you, as a young kid, I never would have thought I would one day create something that would be added to the game. It feels good to contribute to a game that has had a huge impact on my life!
What value do these two hairstyles add toThe Sims 4in your opinion?
I believe they hold a great value! The hairs are detailed with features that Simmers take into account. So much time and research went into this project, and those little details matter. I wanted to make sure that every feature was well thought out and implemented. For that, and that the hairs are so freaking cute, I believe the Simming Community will embrace them!
Which hair color swatches are you most excited to see the community style?
I am excited for the purple hair swatch of the Bantu Knots! Purple is my favorite color. I'm also excited about the roots of the hair; the rich colored hair swatches have slightly darker roots with the Bantu knots. It has a realistic feel to it which was very important to me when creating these hairstyles!
Early Concept Art for Bantu Knots & Early Concept Art for Two Strand Twists
What's something new you learned about hair in the process of designing hairstyles forThe Sims?
I learned about hair budgeting. To stay true to the character design of the game, there are certain things you have to take into account when creating hairs - the length, the texture, the bump outs, the curves…they all play a part in creating a style. You have to account for clothing or objects that interact with the hair and how it would all pan out with your idea. It was very rewarding to see my ideas come to life! It was a great experience and I truly learned a lot!
How do you see people using these hairstyles in the game/how would you style Sims with these hairstyles?
The hairstyles are versatile! They can be used on any occasion - from a wedding, to a party, to makeover for your mid-life crisis, the options are limitless. I honestly see Simmers using these hairstyles casually in their day to day looks…that's exactly what I'm going to do!
The two Create-A-Sim items by DeeSims will be available beginning 11/17 in The Sims 4 on PC via EA app, Mac® via Origin, Steam®, PlayStation®5, PlayStation®4, Xbox Series X|S and Xbox One systems.