Your Sims will now be able to dress their cats and dogs in fresh outfits. Yes, it's happening, people. Pet costumes are in the building. Your furry besties can now strut in style! Now that's what we call a catwalk.
But wait, there's so much more! If you can't get enough of The Sims 4 Cats & Dogs, you're probably a huge animal lover. With The Sims 4 My First Pet Stuff, you can add small pets to households, like a hamster, rat, pygmy hedgehog, or miniature bubalus. So. Freaking. Cute. Each one lives in a fun, interactive habitat, and your Sims will learn to take care of them, play with them, and keep them happy and healthy, too.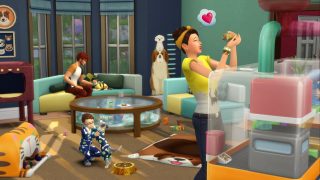 Finally, Sims can show their pets, friends, and families how much they care about their fur babies by decorating their homes with pet-inspired furniture. Brighten up a kid's room, toss a kitty throw pillow in your living room, and show your pride for all things pets!
Ready to show your Sims' pets some love? The Sims 4 My First Pet Stuff pack arrives March 13, 2018 on PC and Mac. If you haven't already, be sure to follow us on Twitter, Instagram, and Twitch, like us on Facebook, and subscribe to our YouTube channel.