The Sims™ 4 Jungle Adventure* has arrived! And with it comes a new destination, culture, and so much more. Read on for a vacation-worthy guide, plus pro tips to get the most out of your exotic trip.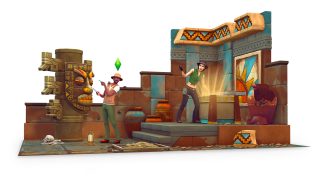 Locals Only

When they travel to Selvadorada, your Sims are sure to meet local friends and get ready for all things wild. In the mood for some culture? Your Sims can try traditional foods, dance to new music, practice native customs, and shop for authentic décor. Plus, colorful fashions will have your Sims feeling ready to take on whatever the jungle throws at them!

Pro Tip: The cantina is the place to meet locals, eat, shop, and catch the latest rumors.


Prepare or Beware

Exploring the jungle is one of the most exciting parts of this pack, but we recommend your Sims gear up first. Hiking attire will get your Sims in the spirit of adventure, and preparing for danger with items from the marketplace will help your Sims explore. After entering the jungle, Sims can find hidden pools, ancient artifact sites, and ruins. But beware of natural dangers and obstacles, from deadly bees to poisonous spiders!

Pro Tip: The jungle is full of helpful materials. Keep an eye out for fruit trees, which will give benefits to those courageous enough to try them.


It's Temple Time

When they stumble upon a unique temple, there's no telling what your Sims will find. The mysterious rooms can unlock delight (or terror!), priceless relics, and treasures. Plus, each time your Sims visit the temple, they'll experience new challenges and uncover different treasures or traps.

Pro Tip: If you prepare your Sims with proper adventuring equipment, they will have an easier time searching for the Temple. Should you choose not to prepare your Sims, you'll see all the fun ways the jungle pushes back.


As a Matter of Artifact

Sims can excavate and examine hidden items, which could turn out to be precious objects. Check them out at the archaeology table to decide if they're worth their salt, but watch out for ones that are fake.

Pro Tip: You can take artifacts home to display with pride!
See the sights, reap the rewards, and interact with a new culture! Plus, give your Sims a boost for their adventure during Triple Boost Week! Visit Jasmine Holiday to increase satisfaction and delay needs just in time for your Sims' exotic escapade. The Sims 4 Jungle Adventure is now available on PC and Mac. If you haven't already, be sure to follow us on Twitter, Instagram, and Twitch, like us on Facebook, and subscribe to our YouTube channel.