First up, Plumbob Pictures. Where dreams are made, and put on camera! Once your Sim chooses the Acting career, finds a talent agency, and passes their audition, they'll be headed to film a fantastic commercial or movie. And, of course, you can join them on their journey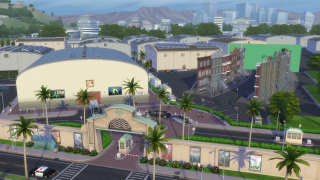 So, let's get to the important things, like food. Sims can peruse the craft table and get some eats. They're free, and since your Sim is just starting out, this is a great place to fill up.
Mosey over to the hair and makeup station, where Sims can get dolled up for their latest part. Who knows what Sims will end up looking like, but the stylist is a professional, right? Next comes wardrobe, where your Sim will get fitted for their costume. Oh yes, the look is finally coming together.
Plumbob Pictures is a unique part of Del Sol Valley, and of any world in The Sims 4. What makes it extra special is the sets themselves, because they change depending on the gig. It could be a pirate ship set, a cowboy-themed Western, or even a children's show. It all depends on your Sim's career choices. Not to mention, a set just might give you building and home-decorating inspiration.
There's lots to see, of course, but here, Sims can also meet camera operators, background actors, producers, and the director. And when the lights dim, it's time to perform! Assuming your Sim has rehearsed and prepared for this moment, they'll be ready to roll when the director yells something in Simlish that means "ACTION!"
Get Famous releases on November 16, 2018 on PC and Mac. Check out The Sims 4 Forums, follow us on Twitter and Instagram, like us on Facebook, and subscribe to our YouTube channel for all of the latest. Sign up for The Sims 4 newsletter to get updates, exclusive offers, and more (including other EA news, products, events, and promotions) by email and get Grim's Goulish Guitar for free*!