Skate: everything we know about the series revival so far
Everything we know about Skate 4, including the confirmed PC release, who's making it, and when to expect it.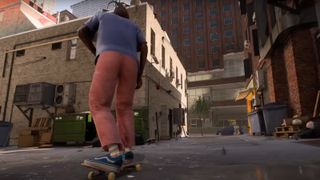 (Image credit: Full Circle)
Skate, the EA skating sequel that we once dreamed of as Skate 4, is finally coming, and it'll definitely be landing on PC. With Skater XL, Skatebird, Session, Tanuki Sunset and the Tony Hawk's Pro Skater 1 & 2 Remakes all either released or currently in development, we're slowly building into a second golden age of skating games. There's no better time than a kickflip renaissance for a new Skate game—the world is ripe for the return of EA's realistic but accessible approach to virtual skating.
Skate's definitely too far in the future for a full picture of what it'll entail, but below you'll find everything we do know about Skate so far, along with some educated guesses.
What is the Skate release date?
We don't know, but it's safe to expect a wait. Back when EA confirmed what we then thought of as Skate 4, it was clear that the sequel would be a long-term project. All we had was confirmation that it exists, and news that a new studio was being spun up to work on the skatequel. Still, back in 2021, EA teased that the new Skate was coming "soon"(opens in new tab), with CEO Patrick Wilson namedropping Skate in a question about user-generated content.
Full Circle, the new EA studio handling the new Skate game's development, acknowledged the game's still being worked on with a release of some dev footage. While there wasn't any mention of a release date, there's now a closed beta sign-up(opens in new tab) on the Skate website. If you're lucky, you might be able to get your hands on it before the rest of us.
Here's some Skate development footage
With this "Still Working On It" video, the Skate devs at Full Circle finally gave us a glimpse at the upcoming skating sequel, proving its development is still very much alive and kickflipping. The game's still very much in its early stages, with the video describing itself as "pre-pre-pre-alpha gameplay." Gridboxes and untextured meshes abound here, but even so, seeing the fluidity and realistic motion of a Skate sequel with 2022 tech is a delight to look at.

Also worth noting: shortly after the release of the Still Working On It video, Full Circle had to release a statement to acknowledge that a cracked version of an internal development build of the game had leaked into the wild. That build, some footage of which you can see on Twitter(opens in new tab) or on Reddit(opens in new tab) if you're so inclined, is from an even earlier version than what's shown in the Still Working On It video, and should be considered even less representative of what the game might look like.
Skate will be a free-to-play live game
Skate's developers at Full Circle are pitching the game as "an authentic evolution of the Skate franchise that can be enjoyed for years to come." Instead of a starting point for new, numbered entries released every couple years, the next Skate game will be a free-to-play, live-service game, continually updated with new content, events, and seasonal additions.

Free-to-play means microtransactions, of course, but Dan McCulloch, general manager at Full Circle, was up-front about the studio's "hard ground rules" for Skate monetization: "Skate is not pay-to-win, there are no areas of gameplay or the map that you'll have to pay to unlock, there won't be any loot boxes, and there's no gameplay-altering advantages that you can pay for."

Presumably, this means the game's monetization will rely on optional, purchasable cosmetics. Specifics about those cosmetics, and how many of them will be unlockable through gameplay, remain to be seen.