Welp, hope your Sims are camera-ready because they're about to reach for the stars with The Sims™ 4 Get Famous Expansion Pack*, out today on PC and Mac! Not only does this pack offer a new world, lots of objects, and a fresh career, but also a way to build Fame in any career you choose. Read on for of all the topics we've covered that will get you excited to play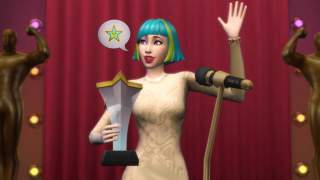 If you're looking for a general overview of the pack, check this out.
Learn about Fame and how your Sims earn it.
Find out how you'll get famous with this quiz!
Read about the world of Del Sol Valley, and get details about the different neighborhoods.
What's the Acting career all about? Find out.
Read some early reviews from a few of our favorite Game Changers.
Meet Venessa in our two-part story about a Sim who has big dreams.
Plus, in case you missed the livestream on November 13, check it out here.
We also want to let you know that this pack features the one and only Baby Ariel! When your Sims are strolling around town, they can spot her singing in public spaces. How "perf" is that?
Have fun with Get Famous! We can't wait to see what you'll build and what stories you'll tell.
Keep up with the latest when you check out The Sims 4 Forums, follow us on Twitter and Instagram, like us on Facebook, and subscribe to our YouTube channel for all of the latest. Sign up for The Sims 4 newsletter to get updates, exclusive offers, and more (including other EA news, products, events, and promotions) by email and get Grim's Goulish Guitar for free*!