The Sims Mobile is now available to download worldwide, and we can't wait for you and your friends to shape your Sims' lifestyles. Since there is so much to explore in the world of your new Sims, here's a quick overview of some features you can expect, and what makes The Sims Mobile a one-of-a-kind experience.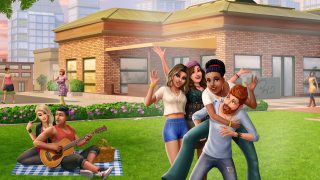 CREATE UNIQUE SIMS
In The Sims Mobile, you can customize Sims' appearances, hairstyles, outfits, makeup, and accessories. Then put together an unforgettable wardrobe when you team up with Izzy Fabulous in the Fashion Shop. That's right, your Sims have their own stylist who can design amazing outfits. Some even have customized effects, like a dazzling flame dress! Plus, you choose personality traits for each Sim, like Active or Musical, and can add even more as your Sims gain life experience.

BUILD THE PERFECT HOME
Designing your Sims a dream home is up to you, and personalizing it with home layouts and designs is easy and fun. Select from a variety of furniture, appliances, decorations, and even themed collections that give your Sims a special home to experience all that life has to offer. Then take them out to discover awesome venues like a fashion studio, restaurant, and nightclub. Explore this new world with your Sims!

SHAPE YOUR SIMS' LIFESTYLE
From careers and hobbies to relationships and families, you'll guide the stories of your Sims' lives. Choose exciting careers like Fashion Designer and Doctor, and hobbies like Cooking and Guitar playing. Have friendly and romantic relationships with other Sims, and take Risky Actions like trying for a kiss or inventing an experimental recipe. Plus, you can start a family and create a path for future generations by passing down powerful Heirlooms.

PLAY TOGETHER
Hosting and attending parties with other Sims is a great way to socialize and earn rewards. You can show off your amazing house, develop starry-eyed relationships, and even decide to move in with other people's Sims. Meet at parties or around town and use Stickers to let them know if they're Cute, Hot, or Fabulous! If you want, join special daily events like Speed Dating in the Park or the Market Square Music Festival.
There are endless ways to connect when you play with life in The Sims Mobile! Ready to start playing? Download now at the App Store or Google Play. Be sure to follow The Sims Mobile on Twitter. If you haven't already, be sure to follow The Sims on Instagram, and Twitch, like us on Facebook, and subscribe to our YouTube channel.