Glass slippers and poisoned apples have shaped how we think about love and romance. Others may roll their eyes when hearing stories of a princess and her fairy godmother. And yet, we all drool over fantastical wedding bliss. We've become used to – and almost expect – the formula of the evil stepsister, a heroic knight, and a damsel in distress.

However, as observed by actual real-life, these themes are obviously cliché. It's time we make some long-overdue edits to the adorable meet-cute while, of course, keeping the spirit of Sims romance alive. It is a love story, after all!
ONCE UPON A TIME…
. . . there was a Sim named Chad. He was an average guy, but had a lot going for him.

He was pursuing a career in social media and practicing his cooking skills on the side. Sometimes he threw parties, sometimes friends would come to those parties, and sometimes those friends had a good time.

Chad was okay with his life as it was. He wasn't looking for anything – or anyone – to complete him, but you know what they say: You'll find love when you least expect it.

She was out for a run on a sunny day when she caught his eye. Chad was tending to his lone rose bush and flagged her down. With shears in hand, and a toothy smile, all he could say was, "Hi." Her name was Betty, but she preferred to be called Bets because you could always bet on her to accomplish her goals. It was that mindset that helped her become one of the best scientists in town.

They enjoyed a quick conversation, but she had to get on her way. Before leaving, she offered to take him to dinner that week. Chad, taken off guard, immediately accepted the invite. (This is the meet-cute, people. Cue happy music.)
Over dinner, Chad opened up about his passion for helping others, and Bets was intrigued. Despite the coiffed hair, Chad seemed like a really good guy!

Once Chad mentioned he wanted to step up his cooking skills, Bets felt butterflies in her stomach. Coming home to a warm, home-cooked meal sounded superb after a long day of science.

They talked for hours and hours. So long, in fact, that Chad started to feel uncomfortable. As in, he had to go number one, okay? With his stomach (and bladder) very full, Bets and Chad split the bill and headed home. No fireworks yet, but what did you expect? It was only the first date!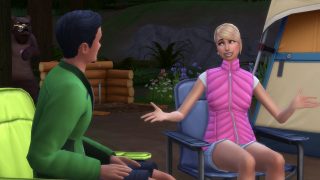 Speaking of nature (calling), Bets loved the outdoors and convinced Chad to go camping with her. He was excited for the adventure, but mostly for getting more alone time with his new love interest. They bantered about their careers, hobbies, hopes, and dreams, and Bets loved all of Chad's lame jokes. Alone time was exactly what they needed. But as we all know, if you go camping, there's always the possibility of coming back with a bear.

And that's exactly what happened.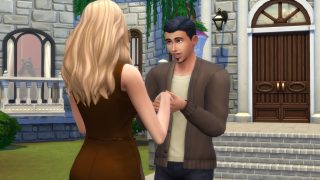 It was a whirlwind romance. They soon ended up moving into Bets' amazing home, which was big enough for all three of them: Chad, Bets, and Bear. Chad even brought his lone rose bush and planted it in the backyard.

Chad felt like a king living in their castle-like home. He was the luckiest Sim in the world. And so, it was time to take their relationship to the next level. And on a particularly romantic night, he prepared a speech and got down on one knee.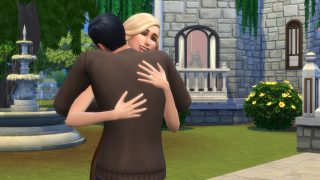 But before he could finish, Bets blurted out, "Will you marry me?!"

Chad was shocked, but blissfully happy! He gave her the ring from his pocket and put it on her finger. As they embraced, Bear looked on from the window.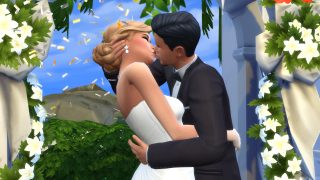 Shortly after, they wed in the most beautiful ceremony you could ever imagine.

They spent forever in their castle-like home and lived happily ever after.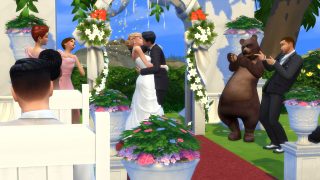 They all lived happily ever after.

And there you have it. A love story fit for royalty. Chad quit his job and ended up becoming an above-average chef. Bets got promoted and bought another rose bush for Chad so his wasn't so lonely. Bear ate a side of beef and took a nap.