Patch your game ASAP, Simmers, because gardening just got the green light! In addition to The Sims 4 Seasons Expansion Pack*, there's a big update to the base game gardening skill. Did we say big? We meant huge. You'll be able to interact with watering and weeding with a new area of effect, so you can quickly take care of plants. Also, a weeding vacuum will help keep gardens blooming! At higher skill levels, you can buy Uncommon and Rare seeds.
To make gardening simpler, your Sims can research plants to learn more about them. We've also simplified Evolution and selling, re-tuned pricing and difficulty to be simpler, and updated the user interface to be more impactful.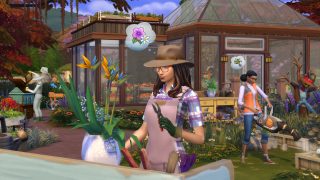 For all you die-hard builders out there, you'll get glass roofs, which you can use for a greenhouse or any kind of building. Build Mode will include more useful gardening sorts to help get your greenery started.
And, when it comes to careers in Seasons, Sims can build their gardening skill to become a professional flower arranger or even botanist! To get you even more buzzed about the latest expansion pack, a bee box will be available, bringing bees, cute and fun animations, and honey! Sweet.
Ready to dig in? Get your hands dirty with this amazing base game update, available now! Check out The Sims 4 Forums, follow us on Twitter and Instagram, like us on Facebook, and subscribe to our YouTube channel. Sign up for The Sims 4 newsletter to get updates, exclusive offers, and more (including other EA news, products, events, and promotions) by email and get Grim's Goulish Guitar for free!