Sims Camp landed in London this week and we're so grateful to all the Simmers who participated, both in-person and online.
We had many members of the community there, and they did all kinds of fun things. We spotted Simmers:
Trying out The Sims™️ 4 Get Famous Expansion Pack* – creators had a blast building homes, checking out objects, and creating new Sims
Livestreaming from our Twitch channel (with some surprise furry friends!)
Munching on sweet treats that kept everyone buzzing
Posing in front of the Get Famous red carpet
Getting their glam on at the makeup station, featuring professional makeup artists
Singing their favorite tunes in the karaoke installation, complete with Simlish songs
Taking instant photos and sticking them to a festive wall
Collecting wind-blown "Simoleons" in a money machine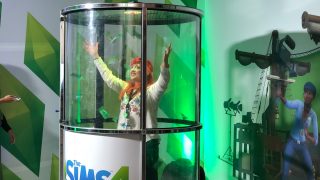 Jumping into a ball pit filled with Plumbob-colored orbs, of course
Creating content and making connections, which was the most heartwarming part
A huge thank you to everyone who made Sims Camp happen, and we look forward to bringing more Simmers opportunities like this in the future.
Keep an eye out for lots of new content from your favorite Game Changers on October 22 (The Sims 4) and October 24 (The Sims Mobile). They'll be getting into the latest releases and more.
Also, don't forget to check out The Sims 4 Forums, follow us on Twitter and Instagram, like us on Facebook, and subscribe to our YouTube channel for all of the latest. Sign up for The Sims 4 newsletter to get updates, exclusive offers, and more (including other EA news, products, events, and promotions) by email and get Grim's Goulish Guitar for free!