The Sims 4's Romance system is one of the things the developers did very well with the game. There are plentiful social interactions in that category, and excellent animations for each of them. Dating goals give direction to Dates and may reward you for performing well in them. The Guide to Relationships and Finding a Friend is relevant to the process of finding a boyfriend or girlfriend for your Sim, as you can learn a bit about the mechanics of socializing there.
The Romance Meter
When talking to a Sim, the top bar is for Friendship and the bottom Romance. At any point in this guide where I mention a percentage of relationship, I mean the bottom pink bar. This is the indication of how Romantic two Sims are toward one another.
Finding Love
If you want your Sim to get along with their future husband or wife, then find a Sim that has Traits that you like. You may also consider their appearance, as the game has a genetics system to determine that babies will look like their parents. Finding a few contacts and seeing how those Sims get along naturally is a good idea if you're going to play them in a family together. It will lead to a happier life for both of them.
As the Sims use Romantic Socials on one another, the relationship meter will rise or fall based on whether that interaction was received favorably or not. At different combinations of friendship/romance levels, you will get a different title for your Sim's relationship with that Sim, from Total Opposites to Soulmates. There is a full table of possible outcomes at the bottom of the guide.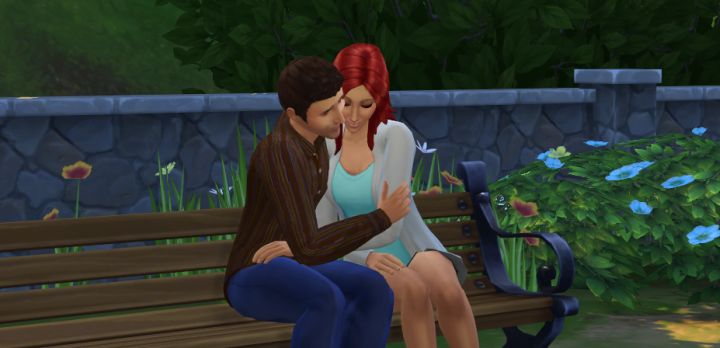 Sims Falling in Love at the Park
Relevant Traits and Rewards
There are a few things that come to mind in in the Trait/Rewards category. Sims with the Alluring Bonus Trait, gained from choosing a Romantic Aspiration will get a higher success rate on all interactions, even Woohoo. Alluring will also raise the effective level of Charisma by 2. Sims with the Great Kisser Reward will get 20% more success rate out of Kissing in particular (that itself is powerful for the variety of kisses), and Sims with Shameless will not find themselves embarrassed by any kind of rejection. If you give your Sim the Romantic Trait, they are more likely to become Flirty at any given time, based on the generation of a random Moodlet.