Plumbella Partners on the Pastel Pop Kit for The Sims 4
You Make The Sims featuring Plumbella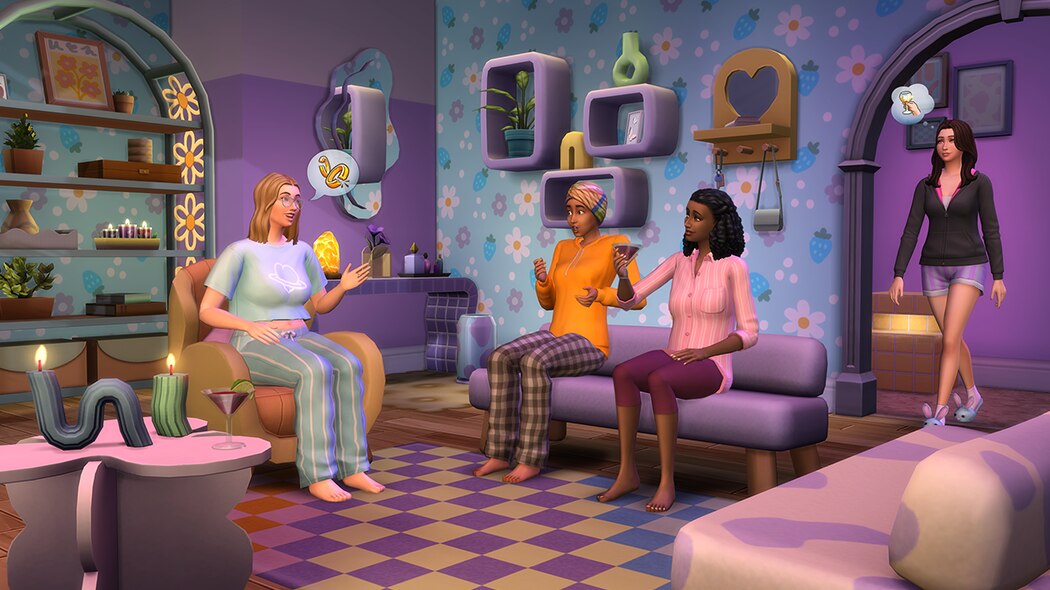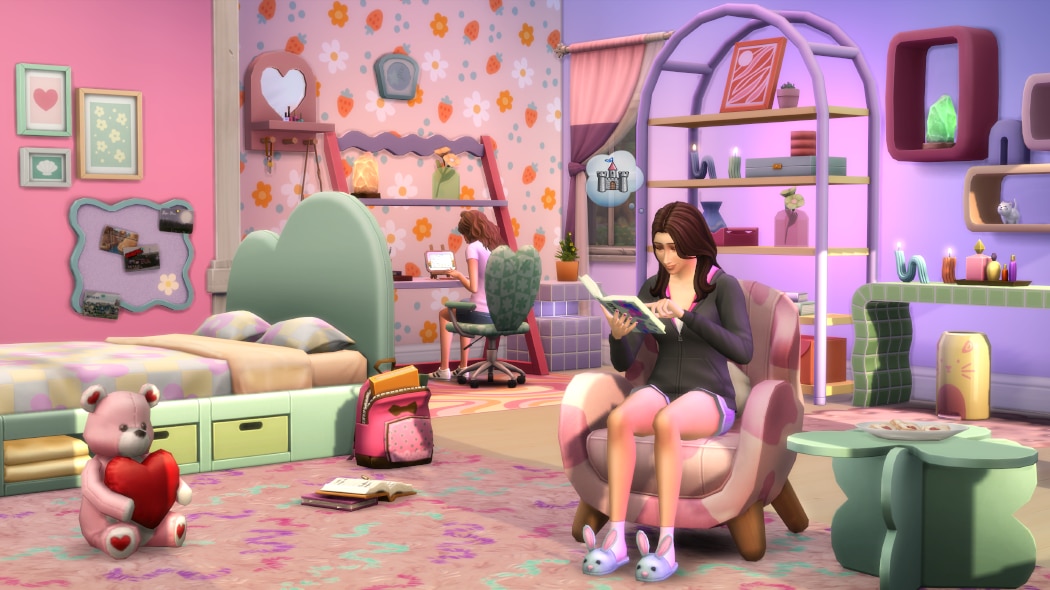 Jesse McNamara, widely known as Plumbella excels when it comes to exploring the endless possibilities within The Sims™. Whether they are redesigning an entire world or creating hilarious and in-depth reviews - Plumbella has built a loyal community of Simmers who revel in watching them delve into every chaotic facet The Sims has to offer.
For the upcoming kit, The Sims 4 Pastel Pop, we've collaborated with Plumbella who advised our developers and art directors throughout the project. They suggested the theme as well as items that would fit nicely into the kit's overall aesthetic.
The new Pastel Pop Kit introduces a soft pastel color palette to the game, along with fun, unique patterns of groovy shapes. This kit will offer lots of new furniture, mirrors, decorative "tchotchkes", shelves, and desk items, designed in an aesthetic Plumbella wishes they could decorate their home with, IRL!
As part of our ongoing You Make The Sims series, we're continuing to spotlight creators across the world who inspire us and the game we make. We sat down with Plumbella to discuss their involvement with the creation process, their inspiration behind the aesthetic, and their favorite pieces from the kit.
Where did you get the inspiration for the Avante Basic theme?
There are so many design styles I'm in love with, but a lot of these had already been covered so far in The Sims 4 (for example: so many objects already give off a "I'm being haunted" aesthetic, or "Mr Darcy would definitely sit on that chair!" vibe), so I decided to focus on a design style that's quite recent: Avant Basic. The juxtaposition of "modern but retro" and "pastel but colourful" aspect of the design is so cool and I tried to include objects I could see Simmers wanting in their own home.
What was your favorite part of the creation process?
My favourite part of the process was definitely watching all of the designs come to life. I've dabbled in most things relating to The Sims, from creating stories on The Sims 2: Exchange to recolouring objects in The Sims 4, but designing objects, turning them into meshes and seeing them work in game is an aspect I've not had the opportunity to get into before.
How do you see Simmers using this kit? What kind of builds do you envision them creating?
I really miss the Tiny Home era of The Sims community, so I really hope to see people make studio apartments or tiny homes with all of the objects. There's a lot of personality and variety in the swatches, so I'm excited to see how people choose to style them and if they'll style the objects together or separately with other packs.
What is your favorite item from this new kit?
Every time I think of this question I come up with a new answer because I feel like we've worked on this pack together for so long that every item is like my child and I can't pick a favourite. For practicality purposes, I think the corkboard is absolutely fantastic - I'm big on personal meaning and nostalgia in my gameplay and I'm really excited to give Simmers a new place to store postcards. From a purely aesthetic angle, the new computer resting on a mini easel speaks to me. Perhaps I do have a favourite child and it's that one.
When you first sat down to collaborate with The Sims team on this kit, what were the items you wanted brought into the game the most? How do you think they'll enhance a Simmer's building experience?
I knew that whatever theme I landed on for this pack it was a requirement to have a new wallpaper and flooring type because those are the things that can really define a room. I think we've definitely brought something new to the game with the two tone paint and I love how the light lands on the carpet during the day.
What other packs do you see this Kit pairing well with?
High School Years and Discover University for sure. The style of Avant Basic definitely caters towards a younger generation, so I can see it really pairing well with any packs that fit in with that.
What type of Sim would use these build/buy items (what traits would they have, give us a little background story)?
During the development of this pack I wanted to make it a priority to have a wide variety of objects and for each object to have a full range of swatches so they could be used in a variety of contexts without being limited to just one type of Sim or room. As I was thinking of objects to include, I tried to imagine a Sim who is just starting to make their way in life and has moved into a studio.
You're a very successful Sims creator, can you tell you the most interesting parts of this career?
Undoubtedly the most interesting part is that if people asked what I do for a living, I could say "WooHooing the Grim Reaper" and it wouldn't be a lie. I've been playing The Sims since the year 2000 when it first came out, and I wish I could tell the younger version me (who was really quite odd, didn't fit in, and sought solace in The Sims franchise) that not only do we get to play our favourite game every day, there's an entire community of people who actually like that you're quite odd and don't fit in.
It's also very interesting that no matter what stage of life I've been at: struggling through secondary school, graduating from University, or even just doing nothing for weeks on end, The Sims has been a constant in my life. I remember drawing a picture to celebrate the release of The Sims 2 and it's so bizarre to think that now I'm writing these questions to celebrate the release of my own content for The Sims.
The Sims™ 4Pastel Pop Kit is available November 10, 2022 for The Sims 4 on PC via EA app™ , Mac® via Origin, and Steam®, PlayStation®5, PlayStation®4, Xbox Series X|S and Xbox One systems. Requires The Sims 4 and all game updates. For PC, see minimum system requirements for the pack.